Innovation Leadership Series
Monthly webinars for innovation management
BlueCallom.Lite with ChatGPT Introduction Webinar
In this BlueCallom.Lite with ChatGPT Introduction Webinar, we will introduce the next generation BlueCallom and it's Open.AI GPT Integration
The sandbox version of BlueCallom.AI 
BlueCallom.Lite is your sandbox to explore the BlueCallom.AI Innovations Solution for free. This webinar aims to help you kick-start your BlueCallom experience and learn what it takes to build a breakthrough innovation leveraging ChatGPT in conjunction with the BlueCallom internal process AI.
Online Event
EU/ASIA 
May 31, 2023
08:00 – 09:30 GMT (UK)
09:00 – 10:30 CEST (Europe)
14:00 – 15:30 ICT (Vietnam)
15:00 – 16:30 SST (Singapore)
16:00 – 17:30 KST (Korea)
YOUR QUESTIONS UP FRONT
If you have SPECIFIC QUESTIONS or want us to address a SPECIFIC TOPIC,
let us know up-front and add them under "Questions & Comments" when you register.
Get your event access key
Even if you can't join now, you should register to get access to the recording.
The only part that will be excluded from the recording is our future outlook.
AGENDA / CONTENT
Experience the innovation power of BlueCallom 

You can find out for yourself why BlueCallom is considered the most advanced innovation management solution in the market.

---
How can savvy innovators get quickly started with BlueCallom-Lite?
1) What you need to know about innovation in general – you will be surprised 100% guaranteed.
2) Using the BlueCallom Innovation Framework as a guiding system.
3) Simulate your executive's commitment with some assumptions
4) Assemble your innovation team
5) Leveraging the built-in GPT-4 API to accelerate your innovation research and ideation process.
6) How else can we help you get going – Q+A.
TAKEAWAY
How BlueCallom.Lite is the perfect companion to explore the Innovations Framework

How you can experience a million Euro solution with a free Lite-Version.

Get a feel for Neuro Innovation, AI and Neuroscience fusion, and much more
FOLLOW-ON
Mark you calendar for our follow-on webinar on June 22:
ChatGPT Prompt Engineering for Innovation Teams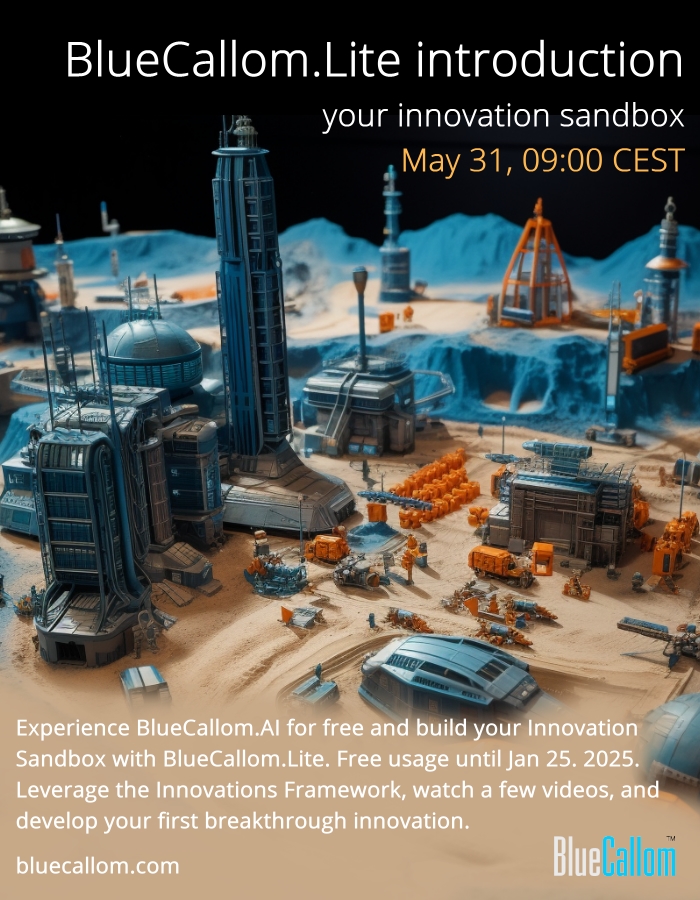 This piece of art is symbolizing an innovation sandbox
It was created in 3 minutes with Mid Journey
Speakers:
Robert Schütte
VP Products BlueCallom


Axel Schultze


CEO  BlueCallom
Audience:
Innovation Executives

Innovation Team Leaders

Innovation Managers

Innovation Team Members