Innovation Leadership Series
Monthly webinars for innovation management
Neuro Innovation Management Update
In this webinar, we will provide a Neuro Innovation Management Update
and talk about its progress in the last twelve months.
Neuroscience discoveries continue to grow. 
When we started, neuroscience was just on an early rise as a tool in the industry. Today we see it in Neuro Marketing, Neuro Sales, Neuro Design, and other branches. With a growing understanding of how our brain works, we learn what it means for our behavior and how to stimulate specific aspects. In the past, innovation may have taken 2-5 years to develop. BlueCallom has been pioneering Neuro Innovation since its inception in 2020.
Online Event
EU/ASIA 
May 25, 2023
08:00 – 09:30 GMT (UK)
09:00 – 10:30 CEST (Europe)
14:00 – 15:30 ICT (Vietnam)
15:00 – 16:30 SST (Singapore)
16:00 – 17:30 KST (Korea)
If you have SPECIFIC QUESTIONS or want us to address a SPECIFIC TOPIC,
let us know up-front and add them under "Questions & Comments" when you register.
Get your event access key
Even if you can't join now, you should register to get access to the recording.
The only part that will be excluded from the recording is our future outlook.
AGENDA / CONTENT
Neuroscience continues to help advance innovation
---
Neuro Innovation Management Update and future research
1) Language, an important neuro trigger and key in innovation processes
2) Combination of human language and large language models in AI (GPT-4)
3) New Neuro-triggers to further enhance your ingenuity
4) Neuro Ideation Advancements
5) Accelerating Ideation by 50% and more
6) Where we are going to take it.
TAKEAWAY
How you can increase your ingenuity through neuroscience

How Neuro Ideation gets you to breakthroughs in a repeatable way

Get a first glimpse of the increasing fusion of Neuroscience and AI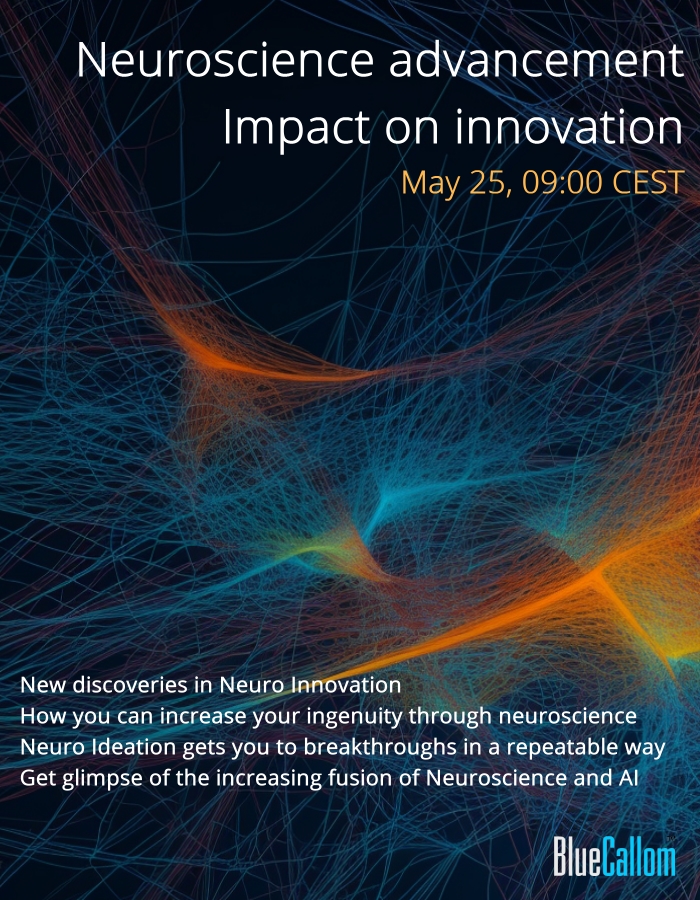 This piece of art is showing the fusion of AI and natural neural networks
It was created in 3 minutes with Mid Journey
Speakers:
Vera Mohr
Neuroscientist, BlueCallom


Axel Schultze


CEO,  BlueCallom
Audience:
Innovation Executives

Innovation Team Leaders

Innovation Managers

Innovation Team Members