Webinar Introducing Human Intelligence Augmentation
January 30, 2024
A change that most have not expected to be possible in the next 10 years.
Human Intelligence Augmentation
What does it mean, how we are doing what was thought to be Science Fiction? Will it change humanity as we know it? 
The biggest shift in businesses since the Industrial Revolution?
How will Human Intelligent Augmentation affect businesses? What about upscaling employees? Does it affect the shortage of skilled people (Fachkräftemangel)? Will there be any shifts in managing the new superhumans?
What is the science behind HIA?


HIA Science is the systematic study of the structure and behavior of the physical and natural intelligence through observation, applying new knowledge and the testing of theories against the evidence obtained.
Online Event
EU/ASIA 
Jan 30, 2024
09:00 – 10:30 CET (Europe)
08:00 – 09:30 GMT (UK)
14:00 – 15:30 ICT (Vietnam)
15:00 – 16:30 SST (Singapore)
16:00 – 17:30 KST (Korea)
Get your event access key
Even if you can't join now, you should register to get access to the recording.
YOUR QUESTIONS UP FRONT
If you have SPECIFIC QUESTIONS or want us to address a SPECIFIC TOPIC,
let us know up-front by sending us your thoughts.
WHO
Business leaders
WHAT
How Human Intelligence Augmentation with Generative AI will change the way we get things done.
WHEN
January 30, 2024  |  09:00 – 10:30 CET
WHERE
Online  | Registration: opens soon
AGENDA / CONTENT
Introducing Human Intelligence Augmentation

In this unique 90-minute introduction, we dive deep into the new topic of Human Intelligence Augmentation, how it will allow rapid business transformation, bridging the latest advancements in AI, neuroscience, and cutting-edge thinking. You will discover how the most advanced tools, created by human ingenuity so far, make yet another quantum leap by augmenting the human intelligence in a way not possible before.
This is not coming in the future – HIAtec is here today.
What is Human Intelligence Augmentation?
Will it touch my brain?
How is it done?
Is this Artificial General Intelligence?
Will it change humanity?
How will employees deal with it?
What are the requirements to for HIAtec to work?
How will it affect businesses?
Who can benefit from the augmentation?
How can people get an upskill to "superhuman"
How will superhumans act in their business?
Is it another wave of unemployment?
Learn what it may mean for you, your career, your business, your leadership.
Join us to unlock a future of accelerated agility, transformation, innovation and strategic  technological adoption.
Q + A
---
TAKEAWAY
Understand what Human Intelligence Augmentation is, what it can do and how it will progress.

Also understand what it cannot do and the new position of human ingenuity, creativity and purpose driven existence.

Learn why it creates a human superpower that creates competitive advantages almost immediately. 

Hear what we did to prove the concept within 60 minutes.

How you can take on complex transformation problems, even if you have never done it before. Experience Human Intelligence Augmentation right away.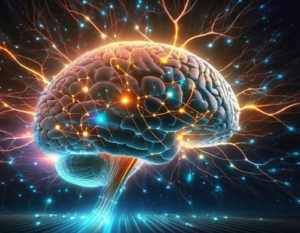 This image symbolises the fusion of human intelligence and artificial intelligence essentially leading to human intelligence augmentation. It was created with Adobe Firefly.
.
You will get everything you need to pilot your own HIA project.
Speakers:
Christian Weh
VP Products


Axel Schultze


CEO  BlueCallom