Corporate Innovation Framework Training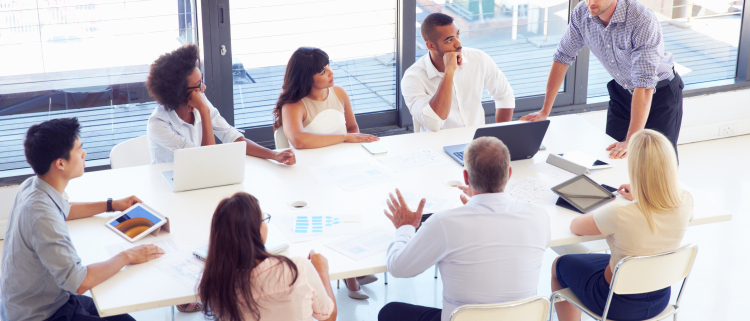 Why is the BlueCallom Corporate Innovation Framework such a big deal? We even talk about a breakthrough in innovation management. After all, we fundamentally change the way innovation is conducted. Innovation goals will change when attendees apply the learnings from the Corporate Innovation Framework Training. The C-Level is now involved with an innovation meta-strategy for the company and passes an innovation mandate on to the respective innovation leaders and teams. Innovation managers have a significantly enlarged responsibility, and the innovation team structure has changed. The expectations are by order of magnitude increased – but finally very clearly communicated. Breakthrough innovation can be expected within six months and validated in the market.
This may come as bad news for those who hang out in an "innovation playground" and enjoy life. On the other hand, this may become an essential turnaround for those who lost their job due to needing to deliver genuine innovation but never had an idea how.
For the first time, disruption hits all business types.
The global FORTUNE 5,000 has not delivered any breakthrough innovation in the last 25 years. Only today, that is turned into a critical situation where shareholders demand it, financial analysts base their advice on it, customers make decisions based on it, and employees decide on their next job. Innovation is nowadays a frequent discussion in every single boardroom around the planet. And it is no longer just in conservative old companies. Even high-tech companies face innovation pressure. Some innovation icons, Intel, Cisco, and Oracle, have been far behind for years, lacking innovation and having no idea how to change that. In 2022 Innovation pressure has accelerated so that the more recent innovators get already disrupted. TESLA had to respond to the rapid growth in hydrogen solutions and announced to consider hydrogen engines for Tesla too. OpenAI attacked Google's search engine business in its foundation with some 90% of Alphabet's revenue. 
How the Corporate Innovation Framework changes innovation from the ground up.
The Corporate Innovation Framework Training will help even the most advanced companies to rethink their innovation process or introduce such a process for the first time. The more conservative companies who explore how they could even catch up with all that will find unexpected help from the Framework. Innovation is now wholly demystified. Today it is known how to create breakthrough ideas at will. It is now known how to validate those ideas in the market reliably. It is known how to finance Innovation, build such an innovation, bring it to market, scale it and repeat the process. With over 100 building blocks, the Innovation Framework provides suggestions, reasons for the suggestions, and arguments when ignoring them so that managers can compose their innovation strategy from scratch and build it with all the necessary building blocks in mind. For example, suppose executives show no active support for building a corporate innovation strategy. In that case, we know innovation will fail, which is one reason it failed across all industries. Not strategically engaging is because executives could not know how innovation is formed. How could you even think of a strategy when assuming ideas come randomly? With no such strategy and no knowledge of how the brain forms ideas, how should employees develop a big bang? With no big bang, how could you finance innovation centers for years? You close it silently down.
Take the example of Innovation-to-market. Even if there was a great idea with great potential, the need to understand the innovation dynamic let the innovation fail. Chevrolet introduced their first EV, the Bolt, and terminated it two years later in 2016 because buyers were not buying enough. Just moments before the shutdown, they extended the shutdown. Little did they know about the Innovation Diffusion dynamic and how long it takes to get innovation to market.

For example, innovation centers are packed with top experts and scientists who should bring the breakthrough. While the team selection sounds logical, the counterintuitive advice is never to require experts to question their own work and develop a brand new solution that kills what they were working on just yesterday. No matter how intelligent, a brain is just not built for that. Instead, look for a group of average business people from different backgrounds but with specific cognitive abilities. It takes unique abilities to think like n innovator, disruptor, and game changer. And they are plentifully available in all enterprises; it's yet to be known.
Imagine we do this type of example with all a hundred building blocks. Change from the ground up is no exaggeration at all. It's precisely what we do in the two-day training. 
Training attendees see the full demystification of Innovation.
Innovation becomes a repeatable, manageable, and predictable business process. Attendees first learn to accept that executives can only continue pumping millions into innovation with outcomes. And innovation team members cannot risk getting fired and have no success story. Change is what needs to happen.
The training gravitates around five major building blocks:
1) Innovation Principles (facts of life)
2) Innovation Strategy (Goal and Expectations)
3) Methods (End-to-end starting long before ideation and ending with scaled to success in the designated market)
4) Innovation Organization (How will it be organized internally)
5) Execution (Value is the creation of an idea but its distribution in the market)
Each of the five columns of the Framework with their 10 to 20 building blocks will be explained in approximately half a day. The objective is to understand the full scope of innovation, independent of methods, types of innovation, and industry. The two days provide the foundation to decide how to proceed with an existing innovation situation. It will be just the right amount of information to proceed to a new structure or keep what one has, maybe take one or the other input into account. An extended three-month Innovation Master Class will build on the first Innovation Framework Training and focus on use cases and hands-on tasks to experience the full scope of a project, which may be their own organization.
More resources:
Corporate Innovation Framework Training March 21/22
BlueCallom Corporate Innovation Framework description
Framework whitepaper download (pre-order)
https://bluecallom.com/wp-content/uploads/shutterstock_275553803.jpg
500
750
Axel Schultze
https://bluecallom.com/wp-content/uploads/BlueCallom-Logo_1000x339_Blue_w-Trademark_space-300x135.png
Axel Schultze
2023-01-19 22:45:45
2023-01-19 22:45:45
Corporate Innovation Framework Training