AI-driven Innovation Paradigm Shift II – Future of Work
Future of work in the era of AI

AI-driven Innovation Paradigm Shift II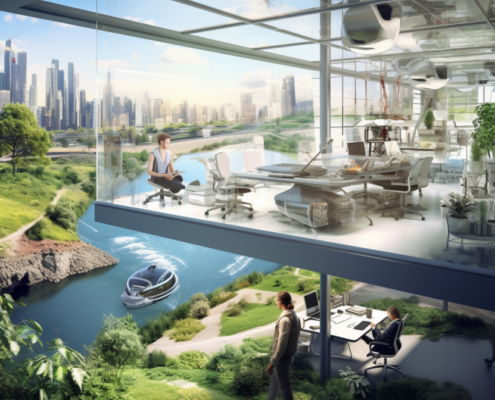 As the era of AI unfolds, there's an increasing discourse around job losses, with many fearing machines might render humans obsolete. However, a nuanced perspective indicates that AI is not directly replacing jobs but's revolutionizing them. Professionals armed with AI tools are set to outpace their peers who rely on traditional methodologies. So it's not AI that replaces jobs but people who use AI. Here's how:
1) Marketing Plans
Imagine a world where creating a comprehensive marketing plan is as quick as making your morning coffee. AI can be fed parameters such as target demographics, budget constraints, and company goals. Within the hour, one might receive a detailed marketing strategy. This includes research-backed insights, potential outreach channels, predicted outcomes, and even content suggestions. While humans are pivotal in feeding contextual details and verifying the plan's alignment, AI dramatically shortens the time and effort involved, turning a week's task into merely an hour's.
The human role: Let the AI know what YOU want in that marketing plan and what constraints YOU want to give the AI. Without intelligent input, neither a machine nor another human can perform that task.
2) White Papers
Once considered a tedious, time-consuming task, white papers can be made efficient with AI. Researchers or marketing professionals provide AI with a theme, objectives, and a few essential details. The system, equipped with access to countless databases and research journals, drafts a white paper complete with research references, infographics, and a well-structured narrative. The human role evolves from tedious drafting to primarily conceptualizing and verifying, cutting the production time from days to hours.
The human role: Let the AI know what YOU want to communicate for an audience that YOU specify. Also here: without meaningful inputs, neither a machine nor another human can perform that task.
3) Product Description
For companies with a vast array of products, writing and updating product descriptions can be daunting. With AI, a product's raw data – size, features, benefits, price, and images – can be input. The AI then crafts compelling, SEO-optimized product descriptions in minutes. This not only standardizes the quality but exponentially speeds up the process, allowing businesses to launch products faster and adapt to market changes swiftly.
The human role: YOU give the AI the PURPOSE and it will do the work accordingly.
4) Event Landing Page
Event managers and organizers can breathe easy. When tasked with creating a landing page for an event, AI can assist in designing, scripting, and even optimizing for conversions. By simply feeding the system event details, target audience specifics, and desired outcomes, AI can craft a visually appealing, content-rich, and user-friendly landing page. Instead of laboring over design and content iterations, humans can now focus on strategy, outreach, and making the event a success.
The human role: Have the idea you want a landing page.
5) Training Class Presentation
Training modules can be made more engaging with AI. Trainers provide the core content and desired outcomes. AI can create a dynamic presentation complete with visuals, case studies, interactive elements, and even quiz sections. This ensures consistent quality, aids in better knowledge retention, and most importantly, lets trainers focus on delivering the content rather than the intricacies of presentation design.
The human role: Understand that a training class presentation is needed and YOU tell the AI how it should be done.
6) Legal Document Review
Legal professionals often spend hours reviewing contracts and legal documents. AI can analyze these in minutes, highlighting discrepancies, potential risks, and areas of concern. Lawyers can then concentrate on strategy and counsel rather than the tedious task of document analysis.
The human role: Review and validate the AI output rather than do the digging and searching yourself.
7) Personalized Learning Paths in Education
Educators can leverage AI to craft individualized learning plans for students. Based on a student's performance, strengths, and weaknesses, AI suggests a tailored curriculum, ensuring more effective and adaptive learning experiences.
The human role: You get the idea: no matter what – Somebody needs to set it in motion
8) Real Estate Analysis
Real estate agents, with the aid of AI, can provide clients with comprehensive property analyses in record time. By entering property details, AI can predict market value, estimate renovation costs, and even suggest optimal selling periods.
The human role: Same here  – set it in motion
9) Fashion Design
Fashion designers can introduce AI into their creative process. By feeding current trends, preferred fabrics, and desired outcomes, AI can generate design sketches, patterns, and even predict market reception, allowing designers to be trendsetters at an unprecedented pace.
The human role: And here  – set it in motion
10) Film and Video Editing
Film editors can provide AI with raw footage, desired mood, and thematic elements. The system can then generate a rough edit, dramatically speeding up post-production timelines. This ensures quicker releases and lets filmmakers focus on storytelling nuances.
The consistent thread across these transformations is the paradigm shift from manual to collaborative intelligence. As AI and humans collaborate, the boundaries of what's possible expand, ushering in a future defined by efficiency, innovation, and unprecedented achievements.
The human role: And also here  – set it in motion
I guess you can now imagine that those 10 examples can be applied to thousands of jobs. If you can't see it give it a try or ask Chat GPT or ask me.
What does it mean for you?
If you are in any office job, you will learn to become a manager, no matter what you do today. You will become the manager of your AI system and tells it what it should do for you. This may be writing a report, summarizing today's calls, creating a document, making a plan, telling it to process information, asking it how you can do what you are supposed to do, ask it to teach you any task, find out how things work, and draw an image even if you can't even draw a tree. As you advance, you ask the AI to create a presentation for you or your boss, or to create a video about any topic, or analyze a project, analyze a process, suggest a process and prepare every item that needs to be done to complete it. Probably half of your daily work will be done in 10 seconds for each piece plus the 5 minutes to explain it what you want. All you need to learn is to `tell it what you want and most importantly learn to know and say what you want. This new ability will pen op new job opportunities and remove barriers like "I'm not good at writing letters" or "I'm not good at drawing images" or "I'm not good at analyzing data"…
Addressing the Global Skills Shortage through AI
Use the team you have – but much smarter than ever before !!!
AI-driven Innovation Paradigm Shift II  delivers also a highly crucial aspect on employee quality. The global skills shortage, a pressing issue in today's rapidly evolving job market, threatens economic growth, innovation, and competitiveness across nations. As industries advance and new specialties emerge, there's a widening chasm between the skills available in the workforce and those in demand. While retraining and upskilling initiatives are paramount, they are not the sole solution, especially considering the urgency and scale of the issue. Enter Artificial Intelligence — not as a replacement for human talent but as an amplifier and leverage for less skilled people. Somebody who never created a blog post can still ask the AI how a blogpost is written and than feed some bullets to the AI. The AI can be used as force multiplier. AI can tailor educational content for faster, more effective learning, predict which skills will be in demand in the coming years, and even assist on the job, guiding workers through complex tasks until they're proficient. Furthermore, AI-driven platforms can match individuals' potential and transferable skills with emerging job roles, bypassing traditional credential requirements and emphasizing capability instead. By harnessing AI, we're not just bridging the skills gap; we're reimagining a future where talent and technology converge, ensuring a resilient, adaptive, and skilled global workforce.
_____________________________
An important note at this point
You may have guessed it already, This post was written by AI, we use, GPT-4, and leveraging our Prompt Framing technology. All I had to do is compile a list of things I wanted to talk about and a minute later I had the results. To do the post it required still me (a human) to say I want a post. It required me to give the AI the structure I wanted and the bullet points in order to get this output. And finally the review and some personal touch like this paragraph. All done in about 20 minutes.
The learning for Business Leaders
AI is not just another piece of Software the IT team should get familiar with, but also the most revolutionary organizational innovation instrument since the industrial revolution with its production automation. I use the term instrument very purposefully. Like the conveyor belt changed mass production from the ground up, it needed to be implemented. it needed to be part of the organization and it needed to be part of he company culture. All this was possible with a few drawings, lists, new rules and organization descriptions. Today's enterprises are so complex and optimized that it needs tools to make it work.
Leading by innovation
It takes leadership to transform a company through a paradigm shift. And this one is far bigger than most expect it to be. Leading by innovation requires the understanding about how AI really works. Neither the "Dooms Day Prophecy" nor the "Click and be done" mentality is helpful in any way.  The future of work lays not in the hands of politicians, scientist or educators. It is in the hands of CEOs. They are the ones that let a company crash or flourish. They need to look into what AI is doing like the farm boys looked at industrialization 200 years ago.
Like the CEO of a car manufacturer knows what cars are, he or she also know what SALES means and how it works, or how FINANCE  ticks and what it means, or how MARKETING does the job. Now there is a quantum leap in organizational management, time management, and results amplification. That requires skilled people we just don't have – and we don't need to.
PART III
AI-driven Innovation Paradigm Shift Part III — Organizational Innovation
I noticed that it may be helpful to describe how companies can initiate that paradigm shift, set new goals and empower people to complete far more jobs in the same time by leveraging AI. Also what task can be performed by less educated people and how all that will drive down cost and increase profitability.
https://bluecallom.com/wp-content/uploads/axelschultze_Symbolize_the_Future_Of_Work_in_four_different_ima_818b0b3e-be88-4790-bdec-7b8f312e2695.png
831
831
Axel Schultze
https://bluecallom.com/wp-content/uploads/BlueCallom-Logo_1000x339_Blue_w-Trademark_space-300x135.png
Axel Schultze
2023-08-09 15:14:52
2023-08-10 15:40:58
AI-driven Innovation Paradigm Shift II – Future of Work