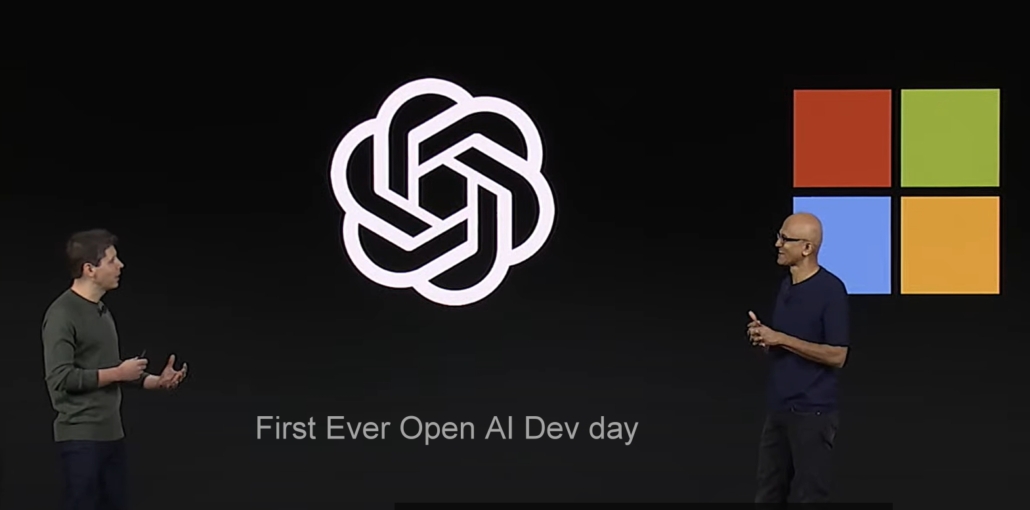 Greetings from San Francisco
Remember ChatGPT is not even a year old today. On Nov. 30 we will celebrate the 1st Birthday of Chat GPT and the 1st Birthday of BlueCallom.AI. Quite a conference and tons of news. First things first. Open AI is just running like hell. With 100 Million active users plus those who tried it at least once, I estimate roughly a billion people who tried it out at least once. ChatGPT is a term that doesn't need an explanation anywhere in the world.
GPT-4 Turbo.
01 MUCH LARGER PROMPTS
One big step forward is the capacity to write bigger prompts, now 128,000 tokens. That allows more sophisticated tasks for solving more complex requests. Is this really important? Yes, we repeatedly saw error messages that our prompts were too complex and we should separate them into multiple prompts. This will be our favorite new feature.
02 MORE CONTROL
JSON MODE. This is more for AI developers but a huge enhancement in working with precise data. So you can use a SEED parameter to get reproducible outputs.
03 APRIL 23 DATA
The next GPT version is trained up to April 2023, is much faster, and has a much better way of processing custom instructions.
04 VOICE IMPROVEMENTS
Voice output has improved significantly and you can select from 6 different voice types. You can talk to our AI Application Guide, Mentoha, today but the voice will improve soon according to the new availability.
05 CUSTOM MODELS
For users with small or proprietary data models. This will make many of our customers with very individual data sets very happy :). This will be not be widely available as the cost is high and the effort is big, but for those who really need it, could be a breakthrough.
06 NEW RATE LIMIT MANAGEMENT
Generally rate limits can be expanded and rates go down. For complex process calculations like in our Innovation or Transformation Processes, it makes a huge difference. GPT-4 Turbo
07 GPT BUILDER
You can now build custom chatbots within ChatGPT. All you need to do is to "call" the GPT builder and it will set up some custom instructions for you. You configure your new GPT to use tools, read documents to review, and much more. Finally, you can test it before you let it loose and go live.
08 DATA PRIVACY
An important message was reiterated by Sam Altman "We never train our models on API data". BlueCallom has developed an individual direct GPT access through the API so even quick questions that would be asked via ChatGPT are no excluded from training data and not be used by OpenAI at all.
I guess those are the most relevant news from the OpenAI Dev Day
Human Intelligence Augmentation
Check out what we are doing with all the new superpowers and turn people into superhumans with Human Intelligence Augmentation at Swiss Innovation Forum in Basel Nov 30th.
Thanks
https://bluecallom.com/wp-content/uploads/Sam-Altman-Satya-Nadelle-First-OAI-Dev-Day.jpg
777
1569
Axel Schultze
https://bluecallom.com/wp-content/uploads/BC_Logo_4C-570x180-1.png
Axel Schultze
2023-11-07 21:32:26
2023-11-07 21:32:26
First Open AI Dev Day