AI-driven Innovation Paradigm Shift
AI-driven Innovation Paradigm Shift
Part 1: increasing productivity 10-100 fold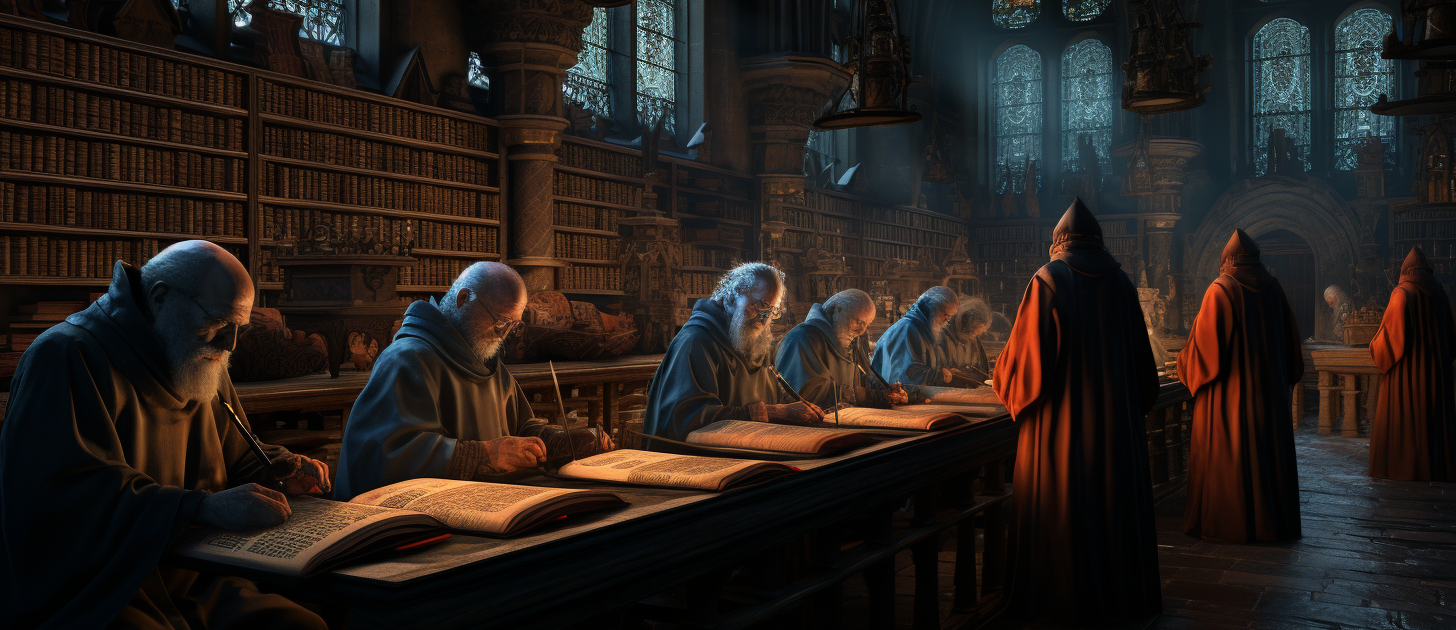 It was about the year 1435. countless monks were copying books. They did so by writing a new book by hand from scratch. Hundreds of pages. Monitored by supervisors, ensuring there is no single mistake on page 563, for instance. Otherwise, the monk had to rewrite it. This entire business of educating the world has suddenly changed. Around 1440 Johannes Gutenberg introduced the printing press. It was the first major shockwave that hit monks like a stroke.
One of the first modern innovations
Many thought that this machine needed to be destroyed. But it turned out the other way around. Within a few years, what was considered a curse became a blessing. All of a sudden, not only a few monasteries with a rare number of educated writers could distribute knowledge. Monasteries from all over Europe could quickly replicate knowledge and distribute it in their community. This was the very early start of the knowledge explosion.
More and more monks were needed to create new and unique content; others were busy with printing, yet others with producing more paper, packaging, packing, and shipping. It was no longer a business for just a few educated writers but for monks and, later on, normal people in the villages participating in that business.
The printing press led to the need for more people – not less. It led to more business opportunities, sales channels, and better education, which allowed more businesses to flourish. It is one of the best descriptions of disruptive innovation. AI is precisely of the same fabric. It will help us do things in any industry and any aspect of our lives that were impossible before. I don't want to overshadow the risks. Analyzing those risks and, for the first time in history, preventing those risks while innovating is part of the paradigm shift. Innovating and automatically conducting various risk analyses at every major step in the process creates sustainable innovations with transparent risk profiles.
Why is the above analogy so relevant in today's innovation and artificial intelligence world?
The old innovation paradigm versus the new
Try and error vs. strategic and tactical innovation.
Innovation is done by the same "experts" who would need to question their own expertise vs. by a diverse team of differently wired backgrounds and specific cognitive abilities.
Today, all repeat jobs like administration, KPI monitoring, Reporting, and Guidance are done by humans, versus an AI system that can augment human capability.
Ideation is reduced to a person's experience (see neuroscience) instead of augmented by an AI that cannot really generate ideas but stimulate the ideation process.
Research is done manually today by researching relevant content, revising and abstracting the critical pieces, and summarizing the result, which may take weeks or even months, instead of by an AI that can do all that in seconds.
Today, disruptive ideas are created by hoping and wondering, dreaming and thinking in random exercises and models like design thinking versus neuroscience-driven ideation that stimulates the brain's natural process and is supported by AI for internal and external idea confluence that unfolds breakthrough innovation and in the same process disruptive business models.
Ensuring that the disruptive solution is a market fit, stopping market research like idea validation, and instead using neuroscience-driven methods to have an undisputable result.
Today, 80+% of disruptive products or services fail in the market for many reasons that may have their roots anywhere from original idea to final product or go-to-market strategy. Instead of moving it back into the existing organization, let the innovation team bring it to market, leveraging AI to its fullest extent, which would be impossible in an existing organization.
Instead of buying a startup with 100 people or even less and hoping they can bring innovation to 20,000+ employee enterprises, create a detailed 'Innovation Meta Strategy' for the corporation and then decide what you really want and how to make it happen.
Instead of pretending you have an internal startup, think big and build an internal Unicorn. And instead of looking for improvements that will never be mentioned in an analyst report, create a 'Large-Scale Innovation' that changes how people do things that were never possible before.
From the first innovation opportunity discovery to scaling in a global market – the new Innovation Paradigm dictates an end-to-end solution that is thought through in all aspects of what it takes to make an innovation successful like any of the far over 1,000 unicorns already do. NEVER try small steps or walk before you run. There is no trying with pregnancy, and you cannot try a circumnavigation with a sailboat unless you already did the first.
Leading by innovation
It takes leadership to transform a company through a paradigm shift. And this one is far bigger than most expect it to be. NVIDEA was a startup in 1993 that was shining through the innovative graphics accelerators for gaming systems it offered. Twenty years later, it was one of the top tech giants in Silicon Valley. Ten years after that, it joined the Club of Valuation Trillionaires. With one exclusive feature: Continuous innovation.
Examples of the AI-driven Innovation Paradigm Shift
All images in this post were created with an AI from #MidJourney. It was done in 20 minutes, including several tries to get the desired output. So I took away business from our ad agency or graphic design freelancers. Well, here is MY POINT: did I really?
NO – I did not take jobs away from graphic designers. I only took the job away from graphic designers stuck in the old paradigm of taking hours and hours, rounds and rounds of reviews and arguments, whether it should be this or that.
MODERN GRAPHIC DESIGNERS use tools like MidJourney, Dall-E, Jasper, Canva, and many others. They can produce an image within 10 minutes, including reading the order. If they charge $20 each, that is $120 an hour. Way more than they earn right now. The only difference: 20 times more productive.
MODERN TEXTER, leverage ChatGPT or similar Large Language Models. They let the task through GPT-4 and get an excellent text, press release, and announcement… That costs 60 seconds + 2 human reviews, and you are done in 10 minutes instead of 3 hours. You charge $25 per press release and make $150 per hour. Again more than most copywriters. Also, you do more with less and earn more than you did in the past. Leveraging modern tools are increasing your productivity 18 times.
MODERN CFOs leverage ChatGPT or their own GPT-4 models to analyze financials, predict cash flow, predict ROIs, and much more. In this case, the CFO Is not in danger but can do more things in less time. But – that leads to a situation that old-world CFOs may need help staying in business.
MODERN INNOVATION TEAMS, ok, this is my favorite. Modern innovation managers use AI and neuroscience discoveries to get to top-notch innovation opportunities in the first place within days. In a few more days, they get all the research done and then take two weeks to craft a breakthrough innovation, and develop the corresponding disruptive business model. A few days later, they get their market validation and go for an innovation financing meeting with the CFO. And again, what took easily 6 to 12 months for complicated processes, unbearable administration, KPI collections, and reporting is now done in about three months. The same goes for prototype building, go-to-market, and scaling. Most breakthrough innovations require 10+ years to see an ROI. Today it is no more than three years. The newly won productivity gives you a 10-fold increased productivity in innovation and a three-fold ROI acceleration. Adding the Innovation failure rate of about 90% into the mix, your Innovation output increases by 100x.
IS IT ALL MARKETING BS? I know – those numbers look too good, and most arguments we hear include, we are an enterprise and tick differently, legal requirements, compliance, regulations, etc. But when you look under the hood, some arguments are based on distrust that your solution may not work, that nobody knows if your idea is really disruptive, uncertainty that the market will not accept the product, that customers won't pay the price you anticipate, and roughly 70+ more challenges. Correct, but did you ever consider changing ALL those "circumstances"? No? But you can. This is why we use the term "Innovation is a Paradigm Shift." The CEO and the board can make a significant difference in making innovation much easier, yet you must ensure it will work.
Other arguments are process and technology related and include: "We need too much time for reporting and KPI collection," "We spend too much time for research," old technology, old processes, old methods, old management… And those arguments can be alleviated even faster.
Neuroscience provided a game-changing inspiration. How can you THINK if you don't know how your brain does it? How is the brain stimulated best? Where are its limits? And Artificial Intelligence is the other big game changer. Now we are leveraging AI for a productivity level that is by an order of magnitude higher than ever imaginable. Fusing neuroscience and AI made the Innovation Paradigm Shift and empowered us and our innovation teams to perform a quantum leap in Innovation productivity. Moving from guessing and hoping to repeatability, manageability, and predictability.
This is no future thinking but a reality today. BlueCallom's AI system help you research, create exceptional ideas, and make intelligent decisions. And yet another AI system that automatically manages and monitors KPIs and prepares reports and performance feedback. Now the innovation teams can focus on one thing only: Their nature-given ingenuity. Here and now.
The AI-DRIVEN INNOVATION PARADIGM SHIFT is like the Gutenberg printing press. Instead of manually crafting one innovation in sequential stage gate steps and doing every single step on your own, now create a Meta Strategy for the entire enterprise, and use an AI-driven innovation that guides you through that process. Instead of shrinking innovation teams, the teams can make far more innovations, and they don't need to be all top experts but now can be a mix of diverse backgrounds. Large-Scale Innovation like Peta-Watt Power Plants, High Volume Intelligent Logistics, New Monetary Systems, Disruptive Insurance Models, Modular Mobility Technology, Collaborative Moon Base Infrastructure, Harvesting Asteroids and other Planets, and developing new and individual organization models is no longer Sci-Fi. Sustainable AI with the ability to make its own risk assessment or assess the risks of other AI Models will turn the fear into a new perspective. Businesses not only get more productive but can build and do things that have been impossible so far.
In PART 2 I will talk about how all this may shape the future of work and our education systems.
https://bluecallom.com/wp-content/uploads/axelschultze_A_monastery_where_7_monks_write_books._On_the_far__78cadfcd-df6a-4e59-8866-fdfd688cfcf0.png
816
1456
Axel Schultze
https://bluecallom.com/wp-content/uploads/BlueCallom-Logo_1000x339_Blue_w-Trademark_space-300x135.png
Axel Schultze
2023-07-26 14:49:06
2023-08-09 10:56:16
AI-driven Innovation Paradigm Shift