Innovation Leadership Series
Monthly webinars for innovation management
AI is changing the Innovation Landscape
Innovation Knowledge Transfer webinar
In this webinar, we will share our first significant software update since we started.
AI is changing the Innovation Landscape. 
In the past, innovation may have taken 2-5 years to develop. BlueCallom brought it down to 6 months. And we expect to bring it down to 2-3 days before the end of this year. That means far more innovation, much faster and more rapid solving problems. We will show you as much as possible during the webinar about that future.
Online Event
EU/ASIA 
Apr 20, 2023
08:00 – 09:30 GMT (UK)
09:00 – 10:30 CEST (Europe)
14:00 – 15:30 ICT (Vietnam)
15:00 – 16:30 SST (Singapore)
16:00 – 17:30 KST (Korea)
If you have SPECIFIC QUESTIONS or want us to address a SPECIFIC TOPIC,
let us know up-front and add them under "Questions & Comments" when you register.
Get your event access key
Even if you can't join now, you should register to get access to the recording.
The only part that will be excluded from the recording is our future outlook.
AGENDA / CONTENT
AI is changing the Innovation Landscape

We are making a bold statement: Nobody fails to innovate when using BlueCallom, and why we can say that.

---
Update on the BlueCallom software and the role of AI and neuroscience.
1) Augment your ideas and any part of any idea with stunning visuals to stimulate idea confluence.
2) Leveraging GPT-4 to accelerate your innovation research process.
3) New Neuro-trigger to further enhance your ingenuity.
4) Driving more data to the KPI framework and leveraging AI-based predictive models.
5) Team guidance through an entire innovation process with an intelligent, artificial mentor.
6) Why we became technology-wise an all-in AI company.
7) Where we are going to take it.
TAKEAWAY
How you can increase your ingenuity through AI-driven brain stimulation

How BlueCallom will make sure your innovation effort will lead to success

Get a first glimpse of where AI/Neuro Innovation is heading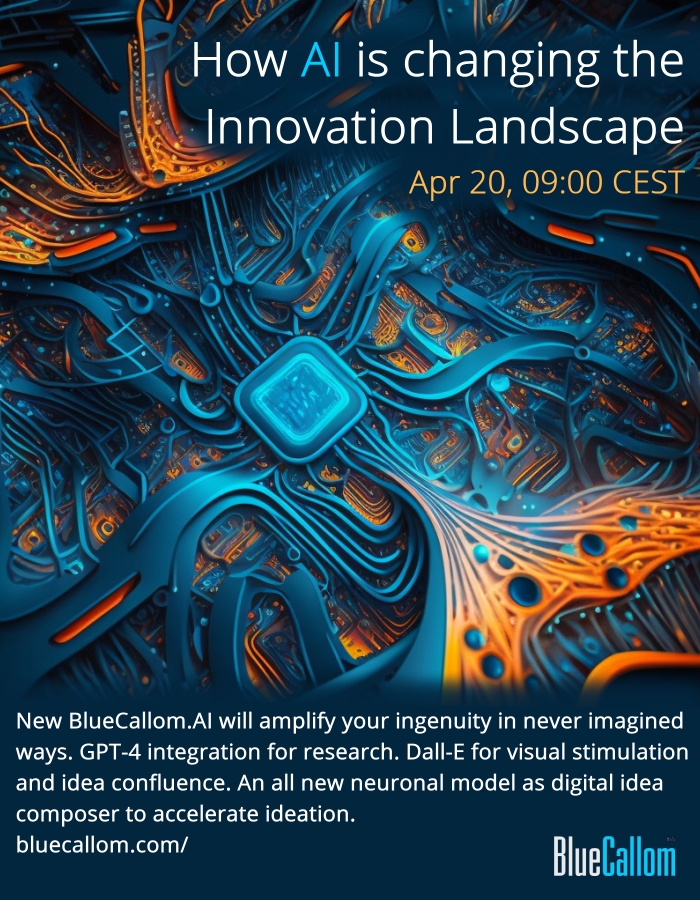 This piece of art is showing the fusion of AI and natural neural networks
It was created in 3 minutes with Mid Journey
Clearly, AI is a major buzzword, AI went mainstream. Over 100 Million users on Chat GPT alone. AI will not kill as many jobs as the doomsday stories predict.  But people and organizations using AI will quickly displace those who don't. A suitable PowerPoint Presentation takes a few hours to create a similarly good Prezo AI presentation, maybe 10 – 15 Minutes. Creative Visuals take maybe 5 minutes, Texts of any kind around 5 minutes, transcripts run in real-time in the background, and so forth. Business always fights for competitive advantages to stay in business.
Speakers:
Robert Schütte
VP Products BlueCallom


Axel Schultze


CEO  BlueCallom
Audience:
Innovation Executives

Innovation Team Leaders

Innovation Managers

Innovation Team Members